Circulation Reports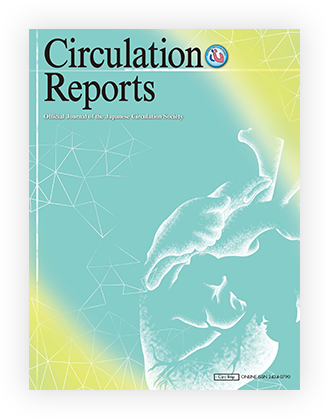 Publisher: The Japanese Circulation Society(Tokyo, Japan)
ONLINE ISSN: 2434-0790
Journal Abbreviation: Circ Rep
Frequency: Monthly
Aim and Scope
Circulation Reports is an official open-access scientific journal of the Japanese Circulation Society. The journal will consider various types of original research articles, including studies conducted with human subjects and experimental models, as well as high-quality applied clinical, epidemiological, and healthcare policy papers related to cardiovascular and cerebrovascular diseases. Specific content areas of interest are: arrhythmia and electrophysiology, cardiovascular nursing, cardiovascular surgery, congenital heart disease, coronary artery disease, epidemiology, exercise physiology, genetics and translational biology, health services and outcomes research, heart failure, hypertension, imaging, interventional cardiology, molecular cardiology, nutrition, pediatric cardiology, pericardial disease, peripheral vascular disease, preventive cardiology, renal disease, resuscitation science, stroke, transplantation, valvular heart disease, vascular medicine, rehabilitation, obesity, metabolism, medical engineering, medical policy, medical economy, and medical education. The journal will also consider the publication of review articles summarizing the present state of knowledge in a particular field, and manuscripts transferred from its sister journal, Circulation Journal. All manuscripts are peer-reviewed. The types of manuscripts the journal publishes are listed in Circulation Reports Instructions to Authors VII. Manuscript Types.
Published by The Japanese Circulation Society
Editorial Teams
Editor-in-Chief
Masataka Sata,MD,PhD
Professor
Department of Cardiovascular Medicine, Institute of Biomedical Sciences,
Tokushima University Graduate School
Japan
Editorial Team Member List

Revenue Sources

Circulation Reports receives revenue from the following sources to cover the costs of journal production, web hosting, CMS, database, online repository, peer review, editing and online publication
•Annual budget from the Japanese Circulation Society.
•Article processing charge for accepted manuscripts.

Advertisement Policy

Circulation Reports will not accept any advertisement for products or services to be published and its related web pages.

Editorial Office

Circulation Reports Editorial Office
18th Floor Imperial Hotel Tower
1-1-1 Uchisaiwai-cho Chiyoda-ku, Tokyo 100-0011 JAPAN
Email: cr[at]j-circ[dot]or.jp

Editor-in-Chiefs of the JCS sister journals, Dr. Toyoaki Murohara (Circulation Journal, left) and Dr. Masataka Sata (Circulation Reports, right) clasped hands with each other at the top of Japan – the summit of Mt. Fuji in Summer 2019. The journals are also going hand-in-hand together and aim for the top!